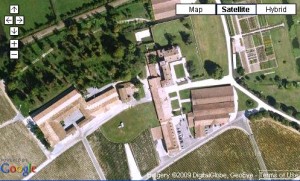 The launch of the 2008 en primeur campaign might have passed largely unnoticed if it weren't for the recent release of one of the United State's most influential publications, the Wine Advocate, triumphing the vintage. This is at odds with the general consensus, particularly with regard to Château Lafite Rothschild, often a symbol of winemaking in Bordeaux and certainly one of the most highly regarded wines in the world. Other assessments had already been emerging over the last few weeks and the trade had managed to conduct a discreet and even moderately successful campaign, despite the general quiet in the marketplace. One merchant said his budget was already up 70% on what he had anticipated even before these reports.
What is the definition of a great vintage? Clive Coates in his book The Wines of Bordeaux considered the proposition: 'I would postulate that at least one of the ingredients is that it should be consistent hierarchically; that the lesser wines should be ripe, rich, balanced and full of fruit; that one should be able to pick with confidence among the ranks of the bourgeois, the petits chateau, and in the satellite appellations.' Note 1The Wines of Bordeaux Vintages and Tasting Notes 1952-2003. Clive Coates MW. Published by Weidenfeld and Nicholson, 2004. Wine enthusiasts might now be confused if this is such a vintage. Certainly, few had the inclination to buy the 2007 vintage which was far from demonstrating these characteristics, although this may have sold better outside the UK Note 2Fine Wine magazine - Spring 2009. The Bordeaux Negociants p23.
The market for Château Lafite Rothschild
The market for the top Bordeaux wines has been destabilised by the enormous rise in release prices over the last few years (see Table 1), which have alienated traditional buyers of these wines. The pricing of the wines rests in the hands of the Châteaux and they have attempted to take advantage of the extraordinary rise in prices that these wines have found in the secondary market, particularly capitalising in the worldwide interest in the 2005 vintage but then failing to correct their pricing policies for the subsequent years.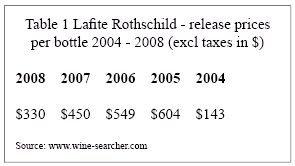 There is no doubt that speculators of all types have changed the market by generating interest in a market solely for the purpose of forestalling. A further complicating factor is the use, or rather misuse, of the uniquitously touted 'score' of a wine (see article Scores - Sense or Nonsense? Note 3FineWinePress.com: Scores - Sense or nonsense?). Thus, comparisons of a wine which scores 95 in one vintage with the same wine, but a year later, which scores 98, creates the perception of a distinction which is at best meaningless, but is largely misleading (see Table 3 in this context). This is particularly important this year because it seems many buyers think this was an exercise in a comparative tasting of different vintages.
There should be no substantial difference in the buying policy of a wine enthusiast, collector and investor and often they are the same person with different strategies. Whilst the ultimate goals may differ which will determine a different approach essentially the motivating reasons for purchasing a wine en primeur are largely the same – to ensure that they can obtain the wine when it is bottled at a price which reflects its true market value (one might say intrinsic value) based on the quality of the vintage. Collectors and enthusiasts, even if they start out as disinterested parties in the ultimate sale value of a wine aren't immune to the attractions of a profitable transaction should they decide to sell it. The only thing which sets their decision making apart is that an investor will only buy wines which he views as having a higher redemption value according to a rate of return which he requires and these must be wines which are acknowledged by the marketplace as a whole as having great merit. He is likely to be more averse to risk and taking a 'punt'. It makes little sense to buy a 'future' when there may be wines in the marketplace which might be available and are of a comparable quality. Table 2 shows the costs of wines from other vintages of Lafite Rothschild from a variety of sources:

On this basis 2008 prices could be compared to 2002, 2004 and 2006 - all available now and all highly regarded wines. Certainly, the 'ceiling' for the value of this wine would be $500 per bottle or thereabouts, if you are a subscriber to the Wine Advocate, nearer $350 if you are a Wine Spectator reader.
If one looks at an average of scores for Château Lafite Rothschild over different years from almost a dozen critics (Table 3 below) then it is interesting to see how each year compares and clearly there is not much in it. Having said this, beware of the danger of comparing these scores without considering the overall quality of the vintage. 2005 was a superlative vintage, and Lafite was a benchmark wine. 2007 one for the wary. One can't compare the two, even if one thought it a good wine for the vintage.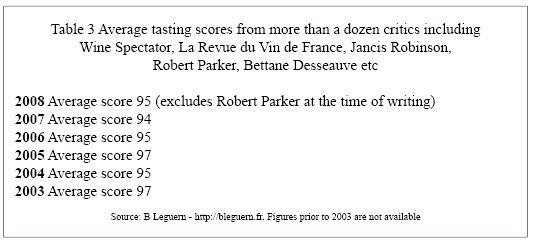 For any wine buyer the decision about buying wine en primeur is clouded by the uncertainty of the quality and consistency of the samples tasted at this early stage of the wine making compared to the eventual bottled wine after its élévage. In the past critics have altered their scores for the wines by as much as 12 points (up) and 10 points (down), changing the scores for as many as 100 of the wines first tasted at primeur compared to their bottled counterpart Note 4Evolutions des notes - Robert Parker: B Leguern. In 2005, for example, Robert Parker changed scores on not less than 20% of the wines he tasted at primeur by as much as 4-5 points either way. Similarly Wine Spectator did the same raising their scores on 13% of the wines by as much as 6%, but decreasing their scores on 6% by as much as 10 points. So there is no question that variation exists between these and, indeed, in the samples themselves which everyone tastes during the primeur tastings in early April after the harvest. This may be particularly true this year (2008) where there were quite a number of inconsistent samples at the tastings, plus the difficulty in tasting some of the samples where the tannins were very high, and this must contribute to the disparity in the perceptions of critics both on the day and in the final result.
Conclusion
It is interesting how much better this vintage was than 2007, and whilst there were differences in the weather which would produce different results one can't help but wonder if some important lessons were learnt. Would it be too much to ask if 2007 hadn't happened, would the 2008 vintage have been as as successful? Alfred Tesseron at Pontet Canet concurs: "in each difficult vintage one learns something. In 2007 we learnt a lot. We managed the vintage [2008] better, certainly from the point of view of viticulture. We were closer to the vineyard. We became more reactive. We were entirely at the disposition of the vineyard without regard to our calendars. When something needed doing we did it immediately, even if it was on Sunday."
The style and quality of the wines from Château Lafite Rothschild has varied if you look at the comments on the wine over the last few years. These are some of the epithets applied to each year from a variety of commentators -- 2003: rich, opulent, extracted, fruity, ripe, sweet, creme de cassis, soft. 2004: tight, spicey, vanilla, graphite, black cherries, cassis, scorched earth, minerals, solid, fine tannins; 2005: unctuous, spicey wood, spring flowers, crushed rocks, sweet black cherry, class and nobility, superb fragrance and intensity, concentrated ripeness, immense depth, extraordinary finesse, a perfect wine; 2006: extraordinary perfume of charcoal, truffles, lead pencil shavings, sensationally sweet, ripe black currant, crisp and racy, cinnamon, good length, extraordinary intensity, texture, and depth with silky tannins; 2007: precision, conciseness, rigour, black berries, cedar, light tobacco and violets.
For this writer Lafite Rothschild 2008 was perhaps one of the least attractive Premiers Crus of the vintage Note 5based on one sample tasted at the Château in April 2009, mirroring its disappointing effort in 2007, particularly because this was a year of enormous potential as many other estates showed. So, whilst it is a classic wine of the vintage, it nonetheless failed to capture the essential qualities of elegance required in a great wine and which marks it apart. To compare it in the same breath as the 2005 vintage seems excessive. But wines can change, there is a long way to go before it is bottled, and commentators' opinions may change too, for better or for worse. For investment purposes it makes little sense to speculate at this level given these uncertainties, whilst for a consumer the decisions are more straight forward. One has the sense that the supply of wine (and thus its price) is being manipulated by the Château as already presaged in the article Bordeaux 2008 - the Year of the Price Note 6FineWineJournal.com: Bordeaux 2008 - the Year of the Price. This should give one pause for thought.
The inconsistency of the samples during the en primeur tastings is a very small but slightly worrying aspect to this vintage. The way châteaux will manage the élévage of this difficult year -- with high tannins and acidity -- will eventually determine its outcome. A great wine needs one attribute above all others – balance – and this can't be said to be a characteristic widely present in this vintage, at least at this stage of its evolution even if Châteaux are better equipped than they were to complete the hard work they started in the vineyard.
The economic downturn may not yet have run its course and it seems that some auction markets are anticipating further price falls in the future.
One merchant I spoke to said he had clients who wanted to sell the 2005 in order to buy this vintage, he went on: '...which is completely crazy. Others were buying the vintage with their credit cards!'
If there is an advice to give, it is simply this: buy with prudence.
Fabian Cobb
We look at the release prices for these years and compare to current prices. We examine these in the context of critics' assessments. We look at prices for this wine at auction at the time of writing from 1998 vintage.
.../continued...you need to upgrade your subscription if you wish to read this content.
We look at the release prices for these years and compare to current prices. We examine these in the context of critics' assessments. We look at prices for this wine at auction at the time of writing from 1998 vintage.
.../continued...you need to subscribe to be able to view content from Fine Wine magazine.
Subscribe HERE to Fine Wine magazine to read the rest of this content or log yourself below in if you are already a member and you will be returned to this page.
'%%previous%%')); } ?>
References

↑

1
The Wines of Bordeaux Vintages and Tasting Notes 1952-2003. Clive Coates MW. Published by Weidenfeld and Nicholson, 2004.

↑

2
Fine Wine magazine - Spring 2009. The Bordeaux Negociants p23

↑

3
FineWinePress.com: Scores - Sense or nonsense?

↑

4
Evolutions des notes - Robert Parker: B Leguern

↑

5
based on one sample tasted at the Château in April 2009

↑

6
FineWineJournal.com: Bordeaux 2008 - the Year of the Price