Food2Wine matching Note 1

if investigated


Click on the wine title below to be taken to the wine page and an explanation of why this dish works so well with the selected wine. Catapult Shiraz Mclaren Vale 2012 (Red, Shiraz/Syrah)
Seared tuna, avocado, ginger and lime to a glass of Shiraz
This is a meaty dish freshened up with herbs and spices. Quick and easy to cook.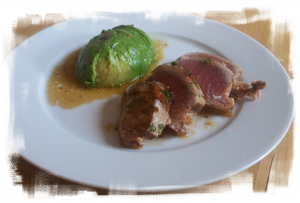 Ingredients:
Per person:
Few sprigs coriander
2 tbspns extra-virgin olive oil
1/2 lime, juiced
1 tbspn soy sauce or to taste
Sprinkling of crushed chillies
1/2 tspn grated fresh ginger
1/2 pressed garlic clove
1/2 tspn runny honey
Freshly ground black pepper
200gms sushi-quality filet of tuna – start from the small end
1/2 ripe avocado, sliced
Instructions:
Finely chop the coriander.
Mix the coriander, ginger, garlic, chillies, lime juice, soy sauce, honey, pepper and olive oil.
Place a seasoned cast iron pan on the cooker set to a high temperature and brush on a thin layer of high smoke cooking oil (such as grapeseed oil or olive oil for cooking). Meanwhile, season the tuna with good sea salt and black pepper. Once the oil is smoking put the tuna in the pan and sear each side for about 45-60 seconds, including the front end. Pour half of the coriander mixture over the tuna after turning and coat all sides.
To serve: thickly slice the tuna and plate up with the sliced avocado. Pour over the remaining sauce.
Summary:
Cuisine:
Course:
FineWineMagazine.com
Preparation time:25 minutes
Cooking time: 5 minutes
---
Specialist products available from (want to add yourself - contact us):