Food2Wine matching Note 1

if investigated


Click on the wine title below to be taken to the wine page and an explanation of why this dish works so well with the selected wine. Manzanilla Pasada, Pastrana La Gitana (White, Palomino)
Rich chicken liver paté
This luxurious paté is gorgeously rich and the flavours run deep.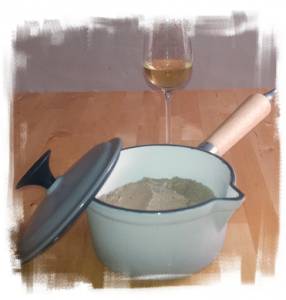 Ingredients:
Change the relative quantities of the ingredients according to taste (for example, if you are using a different Manzanilla):
I always make using 1kg pack of livers because my butcher sells it like this. One can make less but since it freezes so well it makes sense to make more than one might immediately use :
For two patés:
1kg chicken livers
440gms butter – that's why this recipe is called 'rich'
130ml Cognac – more richness
3-4 onions – roughly chopped
2 sharp, hard and crisp apples (important!) – roughly chopped
4tbspns double cream – even more richness
Juice of one lemon – to cut through a tiny bit of the richness.
Instructions:
Cut the butter into 2. Reserve half for blending into the pâté and we'll use the other half for cooking. Dice up the reserved half of the butter and allow it to soften at room temperature.
In a hot, deep pan add a slab of butter (approx one-third of the cooking butter) and throw in the chopped apples and onions. Brown and soften. When ready pour into a food processor.
Wash the chicken livers (despite all of the advice to the contrary about washing chickens but watch the splashes). Pat dry. Trim off any fat or green pieces which will reduce their weight by 100-200gms. Roughly chop the livers after cleaning and drying. Transfer to the same pan used to cook the apples and onions and fry over medium heat with a good chunk of butter (another third of the cooking butter). Pour in 130ml Cognac. Set alight and allow to burn out. Add the contents of the liver pan to the mixer along with the apple and onion. Add 4 tbspns double cream. Blend until smooth.
Cool in fridge then remove and mix in the 220gms butter bit by bit.
Add lemon juice, salt and pepper to taste.
Melt the remaining butter and pour over the paté dishes.
Freezing tip: Depending on your freezer capability the paté can keep for a couple of months.
Summary:
Cuisine: French
Course: Starter
FineWineMagazine.com
Preparation time:20 minutes
Cooking time: 30 minutes
---
Specialist products available from (want to add yourself - contact us):