Food2Wine matching Note 1

if investigated


Click on the wine title below to be taken to the wine page and an explanation of why this dish works so well with the selected wine. Champagne Lenoble Brut Nature NV (White, 30% Chardonnay from Chouilly, Grand Cru from the Côte des Blancs; 35% Pinot Noir from Bisseuil, Premier Cru from Montagne de Reims; 35% Pinot Meunier from Damery (classified 89%).)
Oysters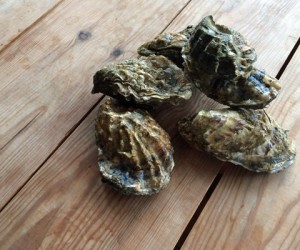 Ingredients:
As many oysters as you can eat and depending on the amount of wine. Make sure they come from a reputable source – Rock or native. Store them in a fridge until required – put them in a bowl with a wet towel on top. Don't leave them in ice. Fresh water will kill sea oysters and you want to eat them alive…
Instructions:
Discard any oysters which are open.
Shucking oysters isn't too hard so long as you protect your holding hand, use a knife intended for the job, don't twist the knife, don't try to force the oyster open in a sudden movement and gently but firmly ease the knife in near the hinge. There are plenty of useful sources available on the internet if you've not done it before.
Make sure you don't lose the lovely seawater once opened and place each oyster carefully on a bed of crushed ice.
Serve as they are. If you're serious about this combination then don't complicate it by adding anything – anything at all (some people add lemon, shallots in vinegar – mignonette – etc).
Summary:
Cuisine: English, Forage, and French
Course: Appetiser and Starter
FineWineMagazine.com
---
Specialist products available from (want to add yourself - contact us):
Colchester Colchester Oyster Fishery Pyefleet Quay, East Road East Mersea, Essex
https://colchesteroysterfishery.com/ [email protected]