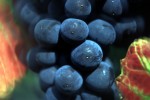 This article considers how Pinot Noir, a black grape, influences the taste of Champagne and its influence in making pink Champagne. There is also an example of using Pinot Meunier - a widely planted variety which hardly receives any mention. Some questions this article addresses, even if not explicitly, are: why aren't all Blanc de Noirs pink? Why isn't all Champagne made with black grapes (including those which have Pinot Meunier) pink?. Why isn't all pink Champagne made 'saignée' which is a complicated but normal part of the Champagne method, as opposed to blending red wines at their second fermentation. Wines may be made using both methods.
On the face of it there may not appear to be much in common between the different Champagne styles of pink Champagne and blanc de noirs. Both have black grapes as part of their constituents - either Pinot Noir and/or Pinot Meunier. A characteristic of some blanc de noirs is a very slight but nonetheless discernible 'pinkness' in their colour  - holding the glass up to a white background will help to determine if it is present Note 1at the time of pressing the grape skins are allowed to 'bleed' into the juice.. Even generic Champagne is often made up of a large part of the black grape varieties Pinot Noir and Pinot Meunier. One peculiarity of some rosé wines is that under the rules of the Champagne Appellation, rosé may be made from two types of production - where red wine skins are bled into the juice during the pressing and where a red wine is mixed into the white wines Note 2the latter is considered slightly easier because it can be judged more carefully especially for the production of larger quantities of Champagne. not forgetting that normal Champagnes, even blanc de noirs, are white. So, for pink wines, whatever the method, the wine is carefully controlled to avoid any excessive colour or red wine characteristics from running into the wine. Its presence or absence is no reflection on quality. In the case of a rosé wine this 'bleeding' is more pronounced and the consequences are that the wine will collect some of the tannins from the grapes, some significant colouring may take place, and more of the characteristics of the black grape may be imparted into the wine - but not always. The other method of production is where red grapes, which aren't necessarily intended to be used for other forms of Champagne, are harvested and vinified as red wines and these are added to the blend. Depending on their proportion and the underlying character of the wine, this will also impart its own imprint.
The case for Pinot Noirs
Take, for example, Champagne Vazart-Coquart & Fils who were already making a rosé. They decided to make a different cuveé with 30% Pinot Noir in the blend - the cuvée Camille. Their pink Champagne has a small amount of red wine in the blend - it is not made saignée but from blending in red wine - with only a small amount of Pinot Noir available to them this is the most efficient way of using it. One might have thought that adding a red wine would add more tannin and characteristics of red wine whereas this is not true. They have managed to produce a (white) wine with lots of character which is fruity and not too over-powering which is, after all, still 70% Chardonnay, but nonetheless is unmistakably a wine containing Pinot Noir.
For a Champagne house like Fleury, their main cuvée is a blanc de noirs which is 70% of current year and 30% reserve wines. Although they have also been making a pink Champagne for 20 years - it is made from the saignée method which for them is a mark of the quality of the wine - the important thing for Fleury was deciding how to manage the dosage and keep the original aromas while not making their wine too sweet. Importantly, from 2009, their vinification too, complies with biodynamic principles.
The case for Pink Champagne
For Champagne house Le Brun de Neuville the 'pink' market is really all about the 'colour' rather than the taste - and this is true for many houses. Thirty or forty years ago rosé Champagnes were quite heavy with a lot of colour and usually a vintage classification Note 3inevitably, because the red wine which went into the blend was essentially a vintage wine. It was a wine made to be served with a meal; it was Champagne's answer to a red wine. But styles have changed, more Champagne is consumed as an 'aperitif' and the demand has changed to a lighter, drier wine. Today, while the difference between white and pink Champagne can be very slight, pink styles tend to have more flavours of red fruit such as raspberry and strawberry, even some tannic expression. There is a growing market for rosé champagne and even the 'brut' category is now lower in sugar than it used to be - with 12/13 g/l of sugar. Le Brun de Neuville is a successful example of what a cooperative  model can become. Cooperatives, not only in Champagne, are sometimes criticised for having to accept the poorer quality raw material of members (in their case, more than 160 members) who may have a focus elsewhere and sometimes don't give the vineyard the attention it needs. But aside from the Appellation's own rules concerning viticulture, Le Brun de Neuville pays more for better grapes - so, there is some incentive. They have encouraged a parcellaire approach to the winemaking. They are proud too of the members' terroirs which are predominantly chalky soils on the higher slopes in the Appellation. 90% of their plantation is Chardonnay. Just like many family owned businesses in Champagne the cooperative produces lots of cuvées - 'because it reflects more of the different terroirs' and also makes proper use of the qualitative differences inherent in their members' properties.
Champagne house Ployez-Jacquemart are notable for making a wine which is trying to be a rosé - many houses are content to produce something with the colour but not necessarily the taste and textural characteristics. While the market for rosés is now a healthy market, they admit that a 'real Champagne is a white wine', even if more and more producers make rosé. They are looking for 'fruit and character' in all their wines. Interestingly, while most rosés are brut, theirs is not. They use only the first pressing and don't need or want to add sugar and especially don't want the bitterness which comes from using the taille Note 4the second pressing. They blend with a red wine to be more sure of a consistent process. However, although it may seem easier to blend from a red wine it is worth remembering that is hard to make a good quality red wine in Champagne. Ployez-Jacquemart use only 10-12% of their total red wine production in the blend.
Conclusions
What about those producing rosé wines which are essentially white wines in character? This is the whole debate about what maintains the equilibrium between the colour and the taste.
Why are rosé Champagnes nearly always brut? The dosage has an even bigger influence on a rosé than a white Champagne and judging the subtlety can be elusive. Pink Champagnes already tend to manifest a sweeter profile due to the inclusion of red fruits rather than citrus. And, in terms of taste, consumers tend to prefer brut Champagne over the drier styles except where rosés are concerned.
Often, when a Champagne maker makes a rosé he is thinking more of the consumer. When he produces, say, 'extra brut' or a vintage Champagne he thinks more of himself. In truth, for most consumers of rosé, it is the colour which is important and they are less likely to be connoisseurs - even provence rosé has changed to become more of a 'white' taste. As everywhere else Champagne producers also follow what consumers want. So, while nearly all rosé is brut, you will also increasingly find rosé in 'sec' and 'demi-sec' - for the nightlife market and bars. Is there a connoisseurs market for pink Champagne? For sure, as some of the wines we tasted demonstrate. Chefs and restauranteurs like rosé too because it broadens out the food matching options with Champagne.
One might argue, the market for pink Champagne is more about style over substance. Certainly, in some cases, where the distinction of the rosé produced is hard to discern except by colour alone. Where more credit has been given to the red grape variety in terms of character - tannins, body, length, complexity - then the category has more depth and interest.
Wines based on Pinot Noir are often more of a terroir wine, where the producers' vineyards are best expressed through the production of a rosé or blanc de noirs. In this sense, blanc de noirs is mostly a quality distinction, especially if made with a large part of Pinot Noir and even more so if these come from the reputed zones of Champagne.
Why do Champagne houses like to make so many cuvées? Producers love making wines with different dosages, for example, different colours, different blends. It is a personal choice and it is not simple to manage. It presents the richness of their terroir from different angles. Vazart-Coquart, for example, is now bringing out zero dosage in September 2015.
Distinctive wines in this style (see sidebar for links)
The exemplary rosés
Champagne Billecart-Salmon cuvée Elisabeth Salmon 2002
Champagne Barnaut Grand Cru rosé 'authentique' NV
Champagne de St Gall brut rosé Grand Cru NV
Champagne Cattier Clos du Moulin rosé NV
Champagne Ployez-Jacquemart extra brut rosé NV
Champagne Gosset brut Rosé NV
Champagne Gosset Celebris extra brut Rosé NV
Champagne Deutz Rosé, 2008
Champagne Deutz rosé cuvée William Deutz
Champagne Philipponat cuvée 1522 rosé
Champagne Bruno paillard rosé NV
Champagne Le Brun de Neuville cuvée tendre rosé NV
Champagne LeClerc Briant Rubis de Noirs Note 5exceptional 2004
Champagne Cattier brut rosé Premier Cru NV
Champagne Boizel Joyau de France 2004
Champagne Boizel brut rosé 2004
Devaux cuvée rosé NV
Chartogne-Taillet le rosé NV
Champagne Boizel Joyau de France NV
Champagne Boizel brut rosé NV
Champagne Fagot brut Premier Cru rosé NV
The stunning Pinot Noirs
Champagne Charpentier Premier cru
Champagne Barnaut Grand Cru 'Grand Reserve' NV
Champagne Barnaut Grand Cru blanc de noirs NV
Champagne Barnaut Grand Cru 'Green label' NV
Champagne Fleury 'Fleur de l'Europe' brut NV
Champagne Vazart-Coquart & Fils Cuvée Camille NV
Champagne Chartogne-Taillet 'les Alliées' extra brut NV
Champagne Chartogne-Taillet 'Les Orizeaux' NV
Champagne Fleury blanc de noirs brut NV
References

↑

1
at the time of pressing the grape skins are allowed to 'bleed' into the juice.

↑

2
the latter is considered slightly easier because it can be judged more carefully especially for the production of larger quantities of Champagne.

↑

3
inevitably, because the red wine which went into the blend was essentially a vintage wine

↑

4
the second pressing

↑

5
exceptional