Food2Wine matching Note 1

if investigated


Click on the wine title below to be taken to the wine page and an explanation of why this dish works so well with the selected wine. Château d'Yquem 2013 (White, Sauvignon blanc 30%, Semillon 70%)
Mildly spiced lobster with vanilla sauce
A spicy and surprising dish which gives a beautiful and complex expression to the king of shellfish - the lobster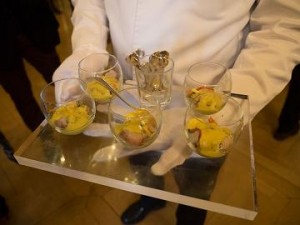 Ingredients:
Ingredients (for 6-8 people approximately but vary the ingredients to the wine, vintage etc):
x4 cold-water lobster tails
Coconut milk 1l
Turmeric 10g
Salt 12g
Paste Tom-Yam Tom-Yum 20g
Spring onion x1
Lemongrass 6-7 pieces
Ginger 20g
Courgettes x1
Carrot x2
Coriander – chopped
Kaffir lime
Cornflour
Vanilla oil – 1 litre grapeseed oil with 8g vanilla, 10g salt. Cool. (these are the proportions for more than you will need – I would suggest around 250ml is adequate)
This recipe courtesy of Michel Trama ( www.aubergade.com ).
Photo courtesy of Carla Capalbo
Instructions:
Make up the vanilla oil at least one week before. Mix together the oil, vanilla and salt. Put in the fridge for a week.
Bring the coconut milk to the boil. Add the turmeric, Tom-Yam, lemon grass, ginger and let them infuse for 30 mins. Bring to the boil once more and add cornflour to thicken. Strain. This is a delicate operation which requires attention to monitor the strength of the spices in the milk – it would be advisable to experiment first. Also, it may be a way to alter the recipe in a subtle way to accommodate other wines in the same style.
Cut the lobster into pieces and season. The texture of the lobster is altered by the size of the chunks. Other Sauternes or wines from Barsac might benefit from a different size of lobster piece.
Dice into small chunks the carrots and courgettes along with a spring onion. Place the raw vegetables in the bottom of a hot bowl. Place the lobster on top and pour the hot sauce over the top.
Grate a kaffir lime and sprinkle with the chopped coriander over the top.
Pour over a small amount of the vanilla oil just before serving.
Summary:
Cuisine: Asian Fusion
Course: Appetiser and Starter
FineWineMagazine.com
Preparation time:45 minutes
Cooking time: 40 minutes
---
Specialist products available from (want to add yourself - contact us):