Food2Wine matching Note 1

if investigated


Click on the wine title below to be taken to the wine page and an explanation of why this dish works so well with the selected wine. La Fleur Jaune Pouilly-Fuissé 2011 (White, Chardonnay)
Tiger prawns with avocado, quinoa, basil, tomato to... a glass of Pouilly-Fuissé
A crunchy, wholesome and filling starter - the prawns glide around the mouth as if on tiny marbles. Quick and easy to prepare and cook this is a recipe also for the 'larder'. You could vary the main ingredient with other shellfish or even cold cuts of chicken.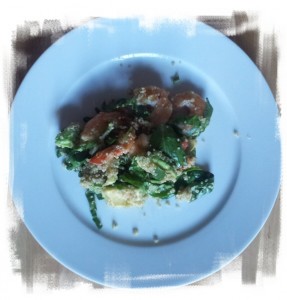 Ingredients:
8 tiger prawns
40gms of Quinoa
120ml water
6 cherry tomatoes de-seeded and roughly chopped
2 garlic cloves – crushed
2-3 tbspns of extra virgin olive oil
a handful fresh basil (whole)
a handful fresh baby spinach
one chopped avocado
1 tbspn toasted pistachio (unsalted)
Instructions:
Add quinoa to the water and bring to the boil. Simmer for 10-12 minutes or until all of the water has been taken up or evaporated. Whilst the quinoa is cooking, fry the tomatoes and garlic in the oil until the garlic is slightly browned and the the tomatoes are breaking up. Clean and wash the prawns retaining the tail. Grill the prawns for 2-3 minutes each side in a hot pan. Add the tomato/garlic sauce at the end for one minute coating the prawns. Mix the quinoa with the basil, spinach, avocado and pistachio. Fold in the cooked prawns and tomato sauce to the quinoa mix. Serve warm.
Summary:
Cuisine: Fusion
Course: Starter
FineWineMagazine.com
Preparation time:15 minutes
Cooking time: 40 minutes
---
Specialist products available from (want to add yourself - contact us):
London GB Marks and Spencer
https://marksandspencer.com/