This is our first ever review of some exciting new wine perfumes – for him and her.
1270 and Esprit de Fleurs by Frapin
Since 1270, the Frapin family have produced Cognac on their domain in the Grand Champagne region in France. Since 2002 Frapin has also become known for their perfume. The 1270 Eau de Parfum bears its long past in its name with all that it implies: complexity, richness, depth and weight. Spraying a little on a handkerchief or on one's skin offers different styles and evolutions. White cotton cloth gives off the fruity (candied orange), balsamic (cocoa, tonka), spicy and lovely floral (vine flowers, everlasting flowers, linden) tones of this perfume. Thus, the beautiful complexity strides in harmony. On the skin, however, it rather too quickly obtains the scent of tobacco and black coffee, which become darker as the middle notes of pepper and spice and base notes of wood appear to the surface.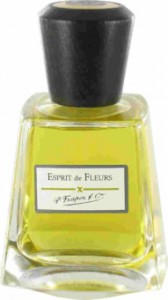 Citrus green Esprit de Fleurs features a dry mix of bergamot, grapefruit and tangerine as top notes and very strong scent of jasmine followed by a slightly bitter basil and other middle notes of pepper and berries. The base notes are vanilla, cedar and vetiver. The citrus elements disappear in about thirty minutes leaving cedar.
Available at Les Senteurs, London. GBP90/100ml.
Sauvignonne, Le Boise and Botrytis by Ginestet
Ginestet, an historic company too, with more than one hundred years behind it, not only laid foundation to the Bordeaux Wine Council but now also to three fragrances that carry aromas of major wines in Bordeaux – a dry white wine, a Sauternes and a red wine. Can there be a wilder dream for a winemaker or a perfumier for that matter? As a result of an inspired meeting between the Managing Director of Ginestet and a perfumier of the Florescence perfume company in Grâce (France), a fresh Sauvignonne, sweet Botrytis and woody Le Boise were launched in 2002. Molecules that define the typical bouqets of Bordeaux wines were identified in a labaratory and transformed into eau de toilette.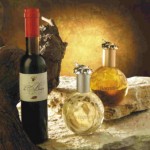 Sauvignonne is an aromatic citrus fragrance for women. It features white peach, grapefruit and boxtree notes. It leaves a cool, somewhat masculine impression that would work perfectly well in a business meeting, but not on a first date. A scent that becomes cooler and pleasantly more intensive if it has been in contact with water.
Le Boise, for men, comes in a red wine bottle which is a lovely interior design detail to find in a bathroom or hallway. It has the equal power to attract and repell. Two drops would destroy your personal scent circle – a circle outside of which no one should be aware of your fragrance. According to the Fragrance Foundation it is at arm's length from the body. Le Boise is powerful, masculine fragrance with strong sandalwood notes, which turn to wood underscored with spicy pepper and vanilla notes.
Botrytis is an oriental vanilla fragrance for women and has a golden colour. It immediately features sweet (honey) vanilla with a slight hint of fresh white flowers which after some 15 minutes turns into the scent of gingerbread topped with vanilla. Botrytis lasts several hours.
Ginestet perfums cost about 55€. For more information visit www.ginestet.fr.

Fleur de Vigne by Caudalie
Fleur de Vigne Fragrance by Caudalie is very fresh and energizing, whilst being feminine and sexy, yet discreet and pleasant – criteria which are rare to discover in just one fragrance. Their formula includes top notes of grape blossoms with a blend of citrus – lemon, grapefruit, mandarin, bergamot and orange. The scent of small fragile vine blossoms are skillfuly recreated from white rose, pink pepper and watermelon. Middle notes of blackcurrant buds and green maté which materialise in about 20 minutes after application and a base of sandalwood and cedar. The Fleur de Vigne line includes body lotion, shower gel and a soon-to-be-launched Gentle Conditioning Shampoo.
The fragrance is available at Space NK and Caudalie.com. £30.00 / 100ml and £21.00 / 50ml.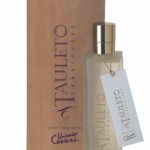 Tauleto Wine Fragrance by Cesari
Tauleto Wine Fragrance comes from the Umberto Cesari winery located near Bologna. Originally the vision of Guliana Cesari, who wanted to transform the aromatic bouquet of their Sangiovese Tauleto wine into perfume, has materialized into a fruity, flowery fragrance that despite it' s complexity can be worn and reapplied all day and night without being obtrusive. Top notes of grape, orange and mandarin evaporate rapidly, leaving middle notes of magnolia, violet and a light touch of bulgarian rose on the base of liquorice, musk and humus. The scent lingers for about an hour. A matt glass rectangular bottle of Tauleto Wine Fragrance comes in a silky violet sack packed in a wood case. The Tauleto Wine Fragrance line includes shower gel, body lotion, massage oil.
Wine Fragrance costs 80€/100ml. For more information visit https://www.tauletowinefragrance.com
Article by Fanija Bluma
First published in Fine Wine magazine (print)