Château Cheval Blanc, Premier Grand Cru Classé (A) [1955 Classification].
Summary
Summary: 37 hectares (91 acres). Cabernet Franc (58%), Merlot (42%). Soil: deep gravel, sand with clay subsoil. Average ages of vines 40 years -- the oldest are 80 years old (1920). Rootstock riparia; 3309; 101-14; 420 A. Density of plantation 6 000 to 7 000 plants per hectare. Vine training method traditional, with Guyot simple and Guyot double pruning. Average yield 38 hectolitres per hectare. Vineyard management plot by plot. Harvesting by hand, with sorting on reception in the cellar. Wine-making: pumping over 4 pumpings of 15 mins per day during the alcoholic fermentation. Vat sizes corresponding to plots in vineyard, ranging from 50 to 120 hectolitres. Fermentation temperature 30-32° . Speciality Separate vinifications according to soil, age of vines and grape variety. Press: pneumatic. Ageing: 100% in new oak barrels. Barrels: 5 different coopers. Length of ageing: 14 to 18 months. Racking: every three months by bellow pump. Fining: in barrel with fresh egg whites. Bottling: 100% château-bottling. Type of bottle: traditional heavy bottle. Labelling: secret and inviolable process.
Second wine: Petit Cheval
No grand vin was produced in 1991
Owners: Bernard Arnault and Baron Albert Frère (1998)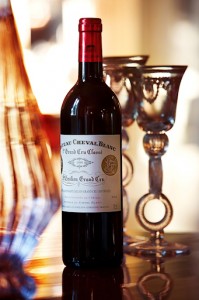 Critics' Scores
General classification of Chateau Cheval Blanc 1995-2007. Classified in its Appellation of St Emilion.
en primeur - No. 2 overall in St Emilion. Average score 93.85 Note 1Primeur scores from 2003 are made up from the those included in the grouping known as "Stakhanovistes" and before from Jancis Robinson, Robert Parker, Stephen Tanzer, Wine Spectator. [Source:

https://bleguern.fr]

In bottle - No. 5 overall in St Emilion. Average score 91.56 Note 2This score was drawnfrom the scores of the Grand Jury Européen, Jancis Robinson, Robert Parker, Stephen Tanzer, Wine Spectator. [Source:

https://bleguern.fr]
References

↑

1
Primeur scores from 2003 are made up from the those included in the grouping known as "Stakhanovistes" and before from Jancis Robinson, Robert Parker, Stephen Tanzer, Wine Spectator. [Source:

https://bleguern.fr]

↑

2
This score was drawnfrom the scores of the Grand Jury Européen, Jancis Robinson, Robert Parker, Stephen Tanzer, Wine Spectator. [Source:

https://bleguern.fr]