Related article: Food2Wine - an explanation
Champagne Doyard cuvée Libertine NV
FineWineMagazine.com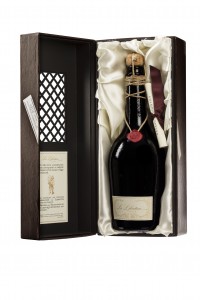 Sauternes colour. Strong caramel nose. Good acidity which balances the sugar. Smooth and long. The Champagne Doyard cuvée Libertine is a beautiful wine which would 'go' with lots of things - risotto, cake, etc. Reminds one of a Champagne cocktail with its burnt sugar profile. I love the boldness, concept, and originality of this wine - and taste, of course. Packaging is a little OTT but it helps to emphasise the distinctive approach. Surprisingly, not too sweet despite its dosage 60+g/l of sugar.

Champagne Doyard cuvée « La Libertine » is the conclusion of ten years of research. Their aim was to obtain the same gustative characteristics of the first sparkling wines made in the 18th century. Then, Champagne was made with 50 - 200 grams of sugar. The « Libertine » has 'only' 65 g/l (normal 'brut' is less than 12g/litre). This Champagne is classified as 'doux'.
As the winemaker says: 'The Challenge was to achieve a balance between a higher sugar dosage and a fresh finish.'
- Blending of 4 to 5 vintages
- Ageing in cellar more than 12 years (currently 15 years)
- Light effervescence
- Sugar level of 65 g/l
- Sweetening (dosage) prepared with old wines of Champagne (more than 20 years) preserved in jeroboam
Score: 94 /100 (tasted: 2015)

Wine summary
Champagne Doyard cuvée Libertine NV (NV) AOC Champagne | Champagne Doyard | White | Sparkling | 100% Chardonnay | 12.0%

---
Food2Wine matching: (if applicable)
Well, there's no getting away from the 'doux' classification and it's really a really a question of finding the right balance between sweetness and some acidity – also in the food.
The cake works on a number of levels: the sweetness present in the syrup and the cake matches perfectly the sweet Champagne. The lemon/orange flavours in the cake augment the necessary contrasting element to the sweetness and bring out the innate characteristics of the wine which has preserved some citrussy notes. The granulation of the ground pistachio and polenta cuts through the smooth Champagne offering a simlar textural experience to the fine bubbles.