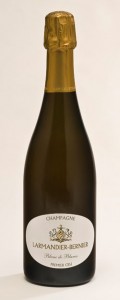 Producer | Larmandier-Bernier
Year | NV
Designation | Premier Cru. Extra brut
Alcohol | 12.5%
Pale straw colour. Yeasty nose. Quite sweet on the attack (one wouldn't have said 'xtra brut') whilst being smooth and vivacious, with citrus and yeast on the palate. Strong mousse and fine bubbles. Quite long and ultimately dry. A light and fresh Champagne rather than deep and interesting. Very elegant.
Score Note 1Date tasted | Feb, 2009 | 85/100
Made exclusively from Côte des Blancs Chardonnay (Vertus, Cramant, Avize, Oger), mostly from the 2006 vintage. The proportion of reserve wines (coming from the 2005 and 2004 vintages) is about 40%. Spontaneous MLF. The wines are left on their lees during the winter. The reserve wines are stored in casks and in wooden vats. The wines are blended and bottled in May, after being very lightly strained. All the bottles are disgorged manually 3 to 6 months before being marketed. The dosage is 5 grams per litre (it is extra-brut).