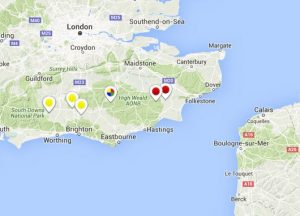 Although some attribute the invention of sparkling wine to an Englishman, which is largely unsubstantiated, there is no doubt about the importance of discoveries which advanced English sparkling wine and which were made across the channel from the most famous sparkling wine region in the world - Champagne.
Notably in the 17th century Christopher Merret wrote in his journal:
"Flat wines recovered with Spirit of wine, Raisins, and Sugar or Molossus, and Sacks by drawing them on fresh Lees.
Our Wine-Coopers of later times, use vast quantitys of Sugar and Molossus, to all Sorts of wines, to make them drink brisk and Sparkling, and to give them Spirit, as also to mend their bad tastes, all which Raisins, and Cute and Stumme performe."
Merret had added significantly to this method by inventing a much stronger glass than had previously existed; a process he perfected in the 1660s. And, after all, where would the Champenois be without the all important market for Champagne in Britain? English sparkling wine producers are now at the forefront of a new era in English wine making. Talking back in the 1970s one of England's early wine-making pioneers, Sir Guy Salisbury-Jones, confidently stated:
"Birds, rather than climate, are the main problem."
This page will group together noteworthy sparkling wine producers and we will continue to add to the list - so please bookmark this page and return in the future. Most estates offer visits and wine sales and you can use this facility to plan your trip.


... read more of this article
Resources
DEFRA – PDO for English wines
Wine trade: regulations