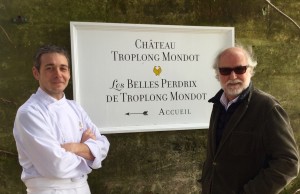 There's no doubt that Bordeaux wine estates are making efforts to become more of a tourist destination. The latest news is that Les Belles Perdrix de Troplong Mondot, a restaurant at this redoubtable domain, has recently received its (first) Michelin Star. Chef, David Charrier prioritises "seasonality, quality, freshness and exclusivity". Previously at 2 Michelin star L'hôtel de Carantec Restaurant working with Patrick Joffroy, Charrier has worked with the owner of Château Troplong Mondot since 2013. The restaurant is a welcome addition for guests in the various guest rooms and cottages, not to mention the swimming pool, which the Château provides. Note 1 Perdrix means 'partridge' in French
Charrier's menu (at the time of writing this) includes starters such as snail cannelloni, spinach velouté, parsnip mash and pan-fried foie gras, with crunchy hazelnut or an organic soufflé, grilled veal sweetbread and black olive sauce, new garlic and light smoked cheese mousse. Mains include: half-salted cod tournedos wrapped in nori sheet, with a slice of black pudding from Bigorre, butternut ravioli and mussels croquette, in a fish sauce with slow-cooked lemon; pigeon breast fillet roasted on the bone with cocoa grind, slow-cooked thigh 'comme une rôtie', glazed Kabu and Gold turnips, slow-cooked Kumquat, topped with fried quail egg and cocoa sauce. One of their desserts sounds like it is pulling our leg: a 'Financier' with Périgord honey and chestnuts, Amaretto and chestnut mousse, tangerine sorbet, meringue and clementines: in fact a 'Financier' is a small cake often made with almonds - some say it was popular in cafés near the Paris Bourse, hence its name.
However, these accolades, even if well-deserved, are perhaps less important today with the proliferation of social media - the so-called Web 2.0 or, in this case Travel 2.0. Les Belles Perdrix already has an outstanding reputation since it opened and is listed on one interactive website as the #1 restaurant in the area around St. Emilion. Whilst it is always important to have the confirmation of client satisfaction, and people increasingly rely on this to make their choices, the yardstick for all professional chefs remains recognition by the Guide Michelin or, at the very least, the owner of the restaurant.