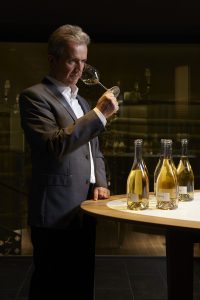 Several legends surround the city of Reims, a town whose name, and pronounciation, causes much anguish to the English speaking world. Located at the heart of Champagne production, Reims was reputedly founded by Remus, brother of Romulus, the founder of ancient Rome. In the 9th century, the discovery of a vial in the tomb of Saint Remi, in the Cathedral at Reims, was considered to be none other than the mythical ampulla flown down by a dove messenger of the Holy Spirit - it had been used to baptise King Clovis I, some four hundred years previously. Subsequent kings used this story as a sign that their accession and coronation was ordained by God and since the first millenium nearly all Kings of France were crowned in Reims.
Close to this historic cathedral is a plot of Chardonnay vines (1 ha.), inside a walled enclosure (a 'clos'), whose existence has been traced back to the 18th century. The vines were tended for years and harvested just like all the other vineyards in Champagne, finding their way into the blend of Champagne Lanson. After the company was sold in 2006, one of the new owners who was inspecting his domain was astonished to uncover this 'secret garden' which for years was just another vine parcel used in the assemblage of prestigious vintages. It was immediately decided to establish a new cuvée and a name for this exciting project wasn't far behind - 'Clos Lanson'.
At a recent vertical tasting I was offered the opportunity to taste 10 years of wines from the Clos Lanson: a vin clair from 2015 and other vintages which were being aged on lees but disgorged for the purposes of this tasting.  As a single vineyard Champagne, Clos Lanson's expression of each vintage is unique. The vagaries of the weather are mitigated by the vineyard's setting 'in town' where it is less likely to be ravaged by frost. Inside the cosy walled enclosure the mesoclimate is a full 2 degrees warmer than in the countryside nearby. This translates into a precocity in the vine's growth and extended growing season resulting in a surer level of fruit maturity even in difficult years, which is why Lanson have announced their intention to produce a wine each year from the 'Clos' - making it one of the few examples of estates producing consecutive Champagne vintages. At last, we can all enjoy a great vintage Champagne marking a special occasion - a birthday or anniversary - and uncork a bottle which shares that special date.
We started with the embryonic 2015, a vin clair, which clearly demonstrated the beauty, power and intensity in this vintage - a wine to buy when it comes on the market in... 2025 (perhaps). We knew when we tasted the 2014 that the vertical was going to bring lots of lovely surprises. Utterly different in character from 2015, but as always with the wines of Lanson, bags of freshness. Certainly not a benchmark vintage but in a year when the Champenois were wondering whatever had happened to their Augusts, the Clos delivered. 2013's fresh acidity on the attack converted into an attractive wine on the palate. 2012 displayed a more mellow expression than some of the other years, it was light and fresh and undeniably a good vintage with better things to come. 2011 was a very enjoyable wine, although a miserable year in Champagne, with notable complexity and slightly less apparent acidity. Still, a promising wine with a good potential upside. 2010 showed real character and it is becoming increasingly clear that the Clos is offering a lot more than nature might have led one to expect. 2009 was smooth and fruity, one had a sense the vintage was saved by the unusually dry August. 2008 was beautifully mineral and very refined. A slightly lighter profile than some of the other vintages, it carries all the hallmarks of an elegant wine and once again showed how vines can prosper despite some coulure (shatter) and millerandage (berries of varying maturity and size) which plagued other vineyards that year. 2007 was nothing if not the epitome of a longer growing season. Despite a poor August in Champagne, undoubtedly the Clos brought its dividends which included a riper fruit manifest by demonstrable levels of sugar. Hervé Dantan confirmed their intention to retain the vintage character by adjusting each wine's dosage, disgorgement date and even date of release. We finished with Clos Lanson 2006, a lovely expression of a variable vintage, a clear sign of the quality which can emerge when difficult weather conditions in the rest of the Appellation are tamed, permitting the Chardonnay to attain a riper fruit.
Clos Lanson 2006 is, of course, a blanc de blancs, aged for 10 years, vinified in 3-year old oak barrels. The Lanson style of not putting their wines through malo-lactic fermentation continues with this cuvée. The 2006 has a beautiful texture, aligned to great finesse and freshness with a depth and complexity which will continue to evolve over the years. Certainly a wine for laying down or better still... why not enjoy it today?
Limited release of 7,870 bottles (individually numbered)
Dosage: 3g/l Brut Nature
Disgorged: December, 2014
Champagne Lanson's Social Calendar
Chestertons Polo in the Park: 3rd-5th June 2016
Champagne Lanson will once again be creating its largest outdoor Champagne Garden, overlooking the field of play at Hurlingham Park - a glamorous focal point at last year's event.
Wimbledon - The Championships 29th June-10th July 2016
Champagne Lanson is the ONLY Champagne poured throughout the tournament, an accolade Champagne Lanson has held exclusively for 15 years, since 2001.
Henley Festival - 6th-10th July 2016
The Henley Festival concludes Champagne Lanson's key summer sponsorship activities on 6th July which this year sees the return of the Champagne Lanson Bar situated on the edge of the picturesque River Thames – the perfect setting to enjoy the scenery and music by Sir Elton John and Dame Shirley Bassey, who will both be headlining this year's spectacular line-up.
For further information and to register for a free copy of Lanson's Little Black Book of Champagne visit: www.champagnelanson.com or social media: @champagnelanson #ThePerfectStart